Admit it…speed is what attracted you to the RC hobby. 
Whether you prefer getting big air or just seeing a car whiz by you, we try to make our RC cars go as fast as possible. 
According to their tagline, Traxxas is "The Fastest Name in RC."
But how fast are Traxxas RC cars anyway? 
More importantly, which Traxxas RC car is the fastest?
The fastest Traxxas RC car is the Traxxas XO-1. It accelerates from 0mph to 60mph in 2.3 seconds and has a top speed of 100 mph right out of the box. The world's fastest modified Traxxas XO-1 has hit 155mph!
There's no doubt Traxxas makes some great bashers and short-course trucks, but this article focuses on pure speed. 
So let's look at their fastest car, the Traxxas XO-1. Then we'll compare its top speed to the rest of their lineup.
---
Top Speed RC Cars before the Traxxas XO-1
Most RC car drivers are used to cars operating in the 30mph to 60mph speed range, which used to be considered pretty fast. In 2011, Traxxas announced a new RC car that could surpass the 100mph mark, and much of the RC world was in disbelief. That car was the 1/7 scale Traxxas XO-1. 
Hitting 100 mph was a bold claim, especially back then. 
That would make it the fastest in its class and the fastest production RC car in the world!
What made it even harder to believe was that this was to be a Ready-to-Run (RTR) RC car. 
Custom-built cars with specialized components and tweaks had hit those speeds before. But getting an RTR car to go that fast right out of the box was unheard of. 
---
How Fast Is The Traxxas XO-1 RC Car?
Right out of the box, the Traxxas XO-1 will accelerate from 0mph to 60mph in 2.3 seconds, slightly faster than a McLaren 765LT hypercar. 
It'll reach its top speed of 100 mph (stock) in just 4.92 seconds. 
As impressive as those numbers are, you can coax even more speed from this RC powerhouse with a bit of tweaking and fine-tuning! Some RC drivers have managed to get the car to 155mph with additional performance upgrades.
Its closest competition is the Arrma Limitless, which has a slightly lower top speed out of the box (92 mph), but a much higher ceiling. Several enthusiasts have tweaked their Limitless vehicles up to over 180mph. The current world record sits at a blistering 196mph. 
---
How Does The Traxxas XO-1 Go So Fast?
Every component of the Traxxas XO-1 is purpose-designed to go fast. 
The heart of the XO-1 is the Traxxas Big Block brushless electric motor, based on the Castle Creations 1717 1650kv motor, capable of up to 56,000 RPM. It's paired with the Mamba Monster Extreme, also from Castle Creations. It's an aluminum ESC with built-in sensors to help keep all four tires planted on the ground during acceleration. 
Speaking of the tires, the XO-1 is fitted with belted high-performance tires, which needed a special type of glue to hold up at the 100+ mph barrier. They're connected to a custom high-end suspension setup and the Traxxas Stability Management (TSM) system to keep the car running straight.
The TSM system is pretty much a requirement at high speed to keep the car tracking straight, even on relatively smooth driving surfaces.
Delivering power is an all-wheel driveshaft based on the Traxxas Slash but boasting all-metal CV axels. The steering knuckles, shock towers, and axle carriers are all made from machined 6061 aluminum for higher tensile strength and shear strength during high-speed runs.
All this attention to detail enables the Traxxas XO-1 to hit 100 MPH right out the box.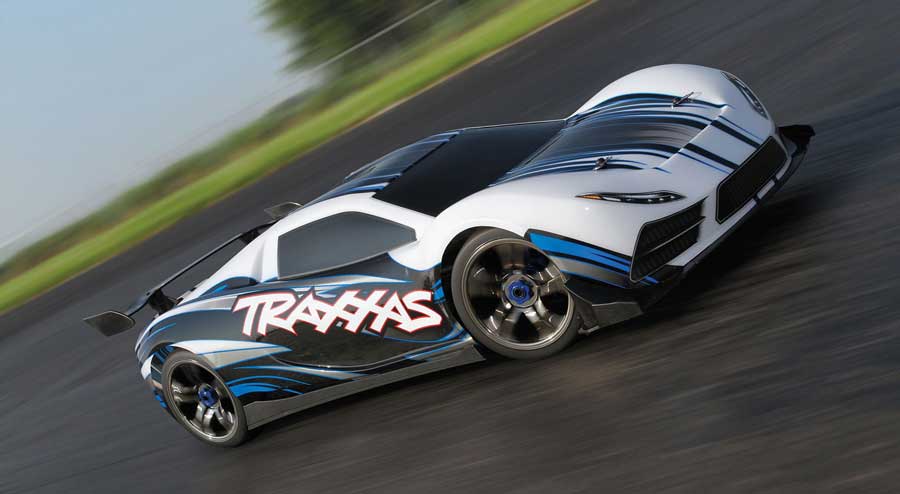 ---
Does Traxxas Make Other Fast RC Cars?
Traxxas is renowned for pushing the envelope with its RC cars. That results in several of their cars topping the speed charts in various RC car classes.
The following table summarizes other fast Traxxas cars in different car classes.
| | | |
| --- | --- | --- |
| Model | Description | Speed (Mph) |
| 95076-4 Sledge | This brand-new truggy 4×4 is capable on the pavement as well as the dirt. Taking inspiration from the E-Revo, the Sledge has precision engineered parts to keep you going over any terrain. | 70+mph |
| 86086-4 E-Revo | Slightly smaller than the Sledge, this 1/10 scale truggy is an absolute beast off-road. It's a perfect upgrade when you're looking for a basher that can still do speed runs. | 70+mph |
| 37076-74 Rustler 2WD VXL | The Rustler VXL 2WD is a 1/10 scale 4×4 stadium-truck dirt racer recently upgraded with a new Pro Series Magnum 272R transmission. | 70+mph |
| 24076-74 Bandit VXL | This 1/10 scale dune-buggy style RC car brings new meaning to the term pocket rocket. Sporting the same upgraded transmission as the new Rustler VXL, it's brushless motor will hit up to 70 MPH with upgraded gearing. | 70+mph |
| 55077-3 Jato 3.3 | The only Nitro-powered RC car on the list, the Jaso will hit 0-60 in 4.2 seconds. | 65+mph |
| 36076-74 Stampede VXL | This 2WD monster truck comes with a new upgraded transmission and Traxxas Suspension Managament. It's similar in size to the Maxx, but at a fraction of the price. | 65+mph |
| 68086-4 Slash 4X4 VXL | This short course truck is Traxxas' most popular model ever. It comes ready-to-run and fully kitted out for high-speed fun on the street or in the dirt. | 60+mph |
| 89086-4 Maxx | This 1/10 scale monster truck is light, strong, and fast. The longer chassis, wide Sledgehammer tires, and vehicle width make it able to handle any terrain with ease. | 60+mph |
| 94076-4 Drag Slash | This car is modeled on the Chevrolet C10 truck and is a 1/10 scale model of this vehicle. Traxxas has given this car all the specs for drag racing, including extra gearing for extra speed when drag racing. | 60+mph |