I've been wrenching on my Traxxas Rustler VXL a lot more lately. I'd much rather be out bashing than working on the car, but I found one thing that helped make it easier.
It's an upgrade to my workbench.
Recently, I picked up a magnetic pit mat from CowRC, and I love it.
So I wanted to review it and share my thoughts on why it's an essential part of your RC workbench.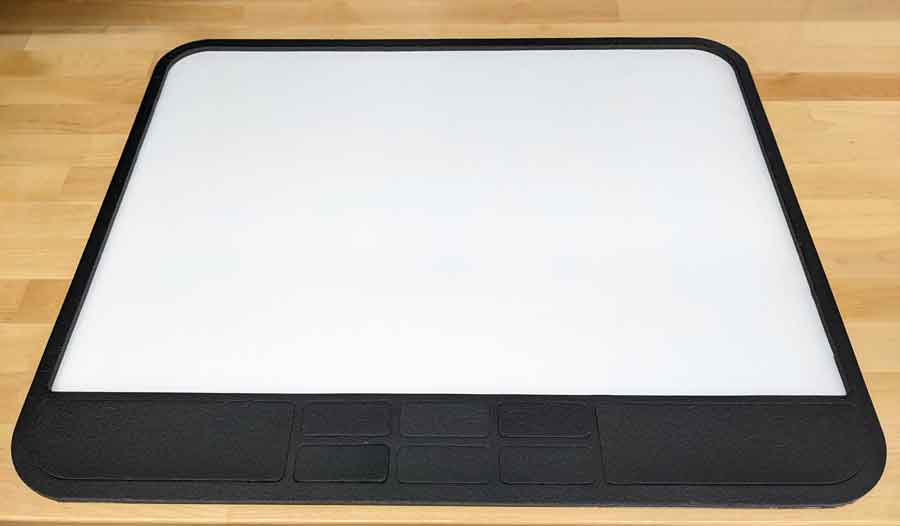 ---
CowRC Magnetic Pit Mat: Overview
CowRC makes several series of RC pit mats featuring magnetic backers to help keep your workspace organized.
They can be ordered plain, with foam edges and inserts, or with exclusive options like custom themes and graphics.
I ordered the large screw catcher work mat. Since my cars are all 1/10 scale, I wanted something big enough to work on the entire car but not so big that it would dominate my workbench.
I've got a 4′ Gladiator workbench that's 25″ deep, so I wanted something that wouldn't take up the entire width of the bench. I also wanted a pit mat that left me space on either side for my tools or cleaning bottles without putting them on the mat itself.
CowRC makes its RC pit mats in four different sizes: Small, Medium, Large, and XL.
However, they used to have a more confusing naming system , so you may see older references to a Micro, Mini, Standard, and Jumbo RC Work Mat. The products didn't change, only the name.
Here is the current lineup of CowRC magnetic RC pit mats:
Small (Micro): 9″ x 12″
Medium (Mini): 12″ x 18″
Large (Standard): 19″ x 24″
XL (Jumbo): 24″ x 30″
In my workshop, the Large Pit Mat is the perfect size for both my workbench and my 1/10 scale Rustler.
The car fits inside perfectly, with enough room for the magnets to catch any screws that accidentally drop during RC maintenance.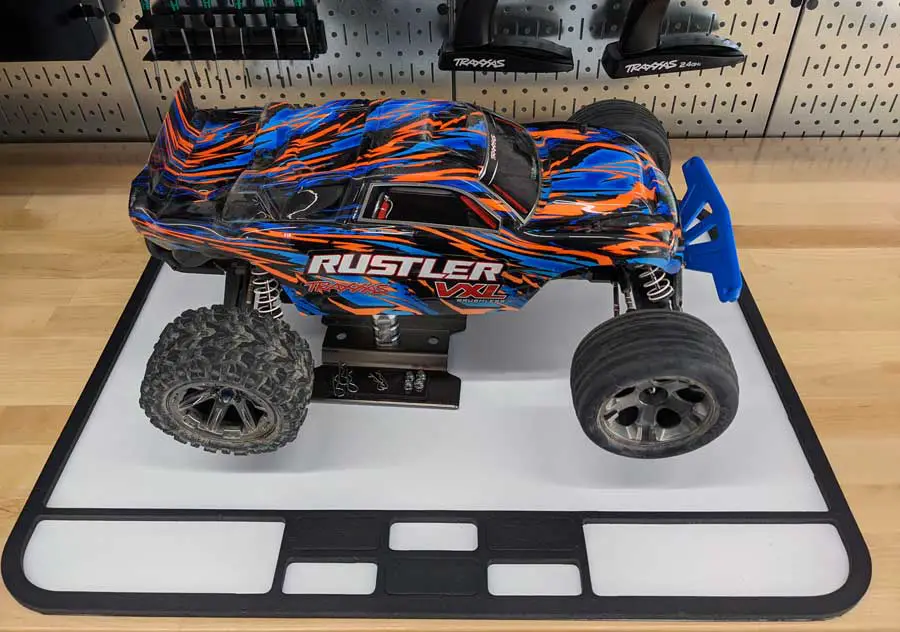 Magnetic Vinyl Surface
CowRC advertises the "strongest reverse magnetic sheeting" in the industry. I don't know about that, but I can tell you that it didn't take long for the magnets to do their thing.
As I removed the tires, a wheel cap slipped out. It bounced once and was immediately caught by the magnet, potentially saving me from hunting around on my garage floor.
Unfortunately, the white vinyl background shows every little piece of dust, dirt, and bits of grass that drop off the car.
It's not a huge deal. This is a workbench, not a showroom, after all. However, I see this being a struggle to keep clean in the future.
CowRC says their pit mat is covered in "exclusive, stain-resistant white vinyl." They recommend wiping it down with soap and water after each use, but a mild, vinyl-safe cleaning solution would also be OK to use occasionally.
All RC pit mats can be ordered with a protective gloss laminate, making it safe for dry erase markers.
However, certain things will stain the vinyl, so be careful when using Loctite or tires with traction additives.
Finally, the multi-purpose work surface is prone to scratches. Never cut anything on the mat's surface, and gently clean up any carbon fiber dust and shavings. 
Foam Pockets
My CowRC magnetic pit mat is surrounded by thin foam pads, although you can get mats without them.
I'm detail oriented, so I like the foam because it keeps everything on the mat's surface and won't let screws or small parts slide off.
The screw catcher foam has several configurable pockets that act as their own small storage compartments. You can use as many or as few as you like.
I opened up the two large outer ones on my screw catcher work mat, which is more than enough space for any project I've done so far.
I also removed half of the ones in the middle to make a cool little design, but that's more for looks than function.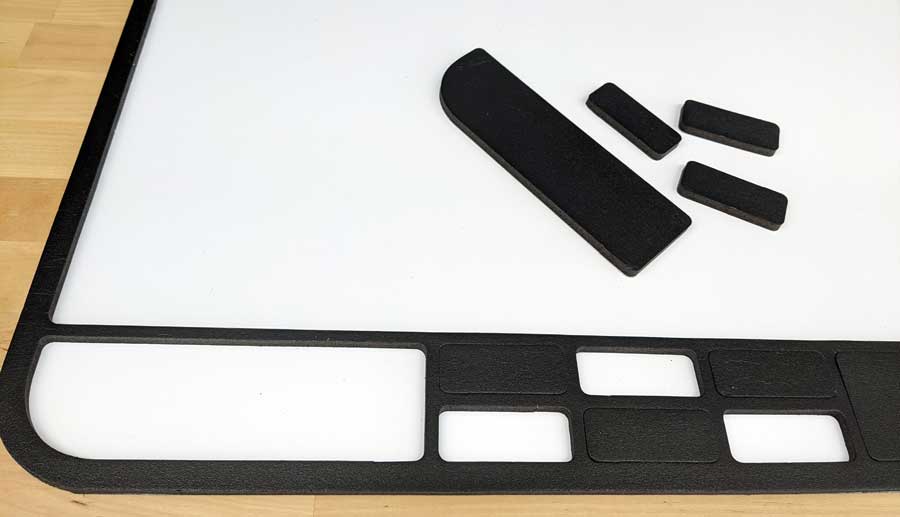 The foam is 1/4″ thick, which is thin enough to not be in your way but thick enough to stop any smaller screws from sliding around or bouncing out. It feels like high-quality, dense foam, so I expect it to last a while.
The mat is heavier than I thought it would be, which adds stability when you're working, so it doesn't slide around.
---
Is the CowRC Magnetic Pit Mat Worth It?
The CowRC magnetic pit mat is about $20 more expensive than the Traxxas pit mat and about double the price of the generic pit mats you'll find at most hobby stores. 
So is it worth it?
Until recently, I never thought I'd need a pit mat. Fortunately, I have a dedicated workbench that I leave permanently set up for my RC cars.
But I changed my mind when I had several small upgrade projects going simultaneously. 
Now, I think this is an essential part of any RC enthusiast's workshop.
As much as I tried to keep things separate and organized, stuff got misplaced. So the CowRC's dedicated compartments really appealed to me. 
The magnets are a huge plus and the biggest selling point for this mat.
It saved me from hunting around on my garage floor for several body clips and dropped screws today alone.
Sure, regular mats may be cheaper, but I don't think they'll keep your workspace organized as well during RC maintenance as the CowRC screw catcher work mat.
Overall, I love this magnetic pit mat. I never thought I'd need it, but I'm so glad I have it.